A question? 
Juices
How are Juices selected?
Cave Pur Jus is looking for the cleanest and most authentic wines. The selection is made during tastings sessions, at trade fairs or directly in the estates. All our wines are 100% tested and approved by Tegwen, the sommelier!
Where do the wines come from? Juices come directly from the estates which ensures ideal storage. We know the winegrowers we work with, we know wine's origin.


How are the bottles stored? Bottles are stored in our warehouse in Brittany, France. We built it especially for wine storage in the best conditions, which means lying flat and at cellar temperature.


I am looking for a product reference or I want to be advised, is it possible?
If you cannot find a product reference in the search bar, you can
write or call us
. It will be a pleasure to discuss and give you some advice!
Shipping
Is the packaging secure?
We pay special attention to our parcels. Regardless of the number of bottles ordered, they will be protected! We have chosen a customized packaging, secure and strong, as you can see :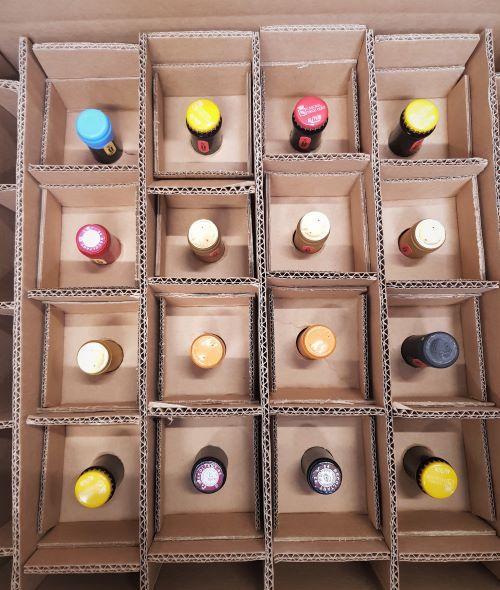 How sould I control the package during the delivery? Please open and check the package in the presence of the deliveryman.
Outer appearance: packages must be well closed by our PUR JUS tape (see image below). If not, it means that it could have been modify by the carrier.

By opening the packaged: make sure there is no missing or broken bottles (sometimes you cannot see white wine from the outside). Robbers are very rare especially if everything is well taped.



What if the package has been repackaged or damaged? 
Any concerns must be declared to the deliveryman. Take pictures of the document on which you make this statement.
You have two options:
• either you refuse the package and the carrier will return it to us;
• or you keep the package and you contact us at contact@cavepurjus.com with all the photos and the report.
Beware of damaged bottles (labels etc...). When a bottle breaks, pieces of glass can tear other labels and red wines can stain other bottles. All of this must be written on the report to be able to make a damage file in order.



Deliverey
Which countries do you ship to?
We deliver all over Europe, excluding Norway. We also deliver Switzerland. See 
delivery conditions

.


What are the delivery times?
Delivery times for Metropolitan France are 24 to 48 hours for any order placed before 12 p.m., monday to friday. In Europe, delivery times depend on the country, from 2 to 4 days most of the time. See
delivery conditions
, depending on your shipping location.
What are the shipping costs?
Delivery starts from 19.90€ in Europe. Delivery is free from 400 or 500€ of purchases, depending on your country. We also have a special offer for some countries : free shipping for 16 bottles (zone 1 and 2 of Europe). See details in
delivery conditions
.
How can I track my order? The shipper will send you an email with a tracking link.


What if I'm not sure to be at home for the delivery? You can choose the shipping day of your order to receive it when you want. Leave us a message when ordering with the shipping day you prefer.
Pur Jus
Who is behind Pur Jus?
Cave Pur Jus was created by Tegwen Naveos in 2013, sommelier for more than 20 years and natural wine specialist. We know the winemakers and the estates very well, which guarantees you a great selection, and rare references. Find out more: 
who we are

.


How to contact us?
You can contact us by phone or email at contact@cavepurjus.com. We are open Monday to Friday from 9 a.m. to 5 p.m. 
Contact us


Where is Cave Pur Jus located?
We are based in Larmor Plage, near Lorient in Brittany, in France. What are your opening hours? We are open Monday to Friday from 9 a.m. to 5 p.m. To visit us or pick up your order, we advise you to make an appointment. 
Contact us